Over 2 million records have been secured with us since 1993.

Order Medical Records
It's Safe, Secure, and Fast
Order Your
Medical Records Online
A safe, secure, and easy way to order
yours or your client's medical records online.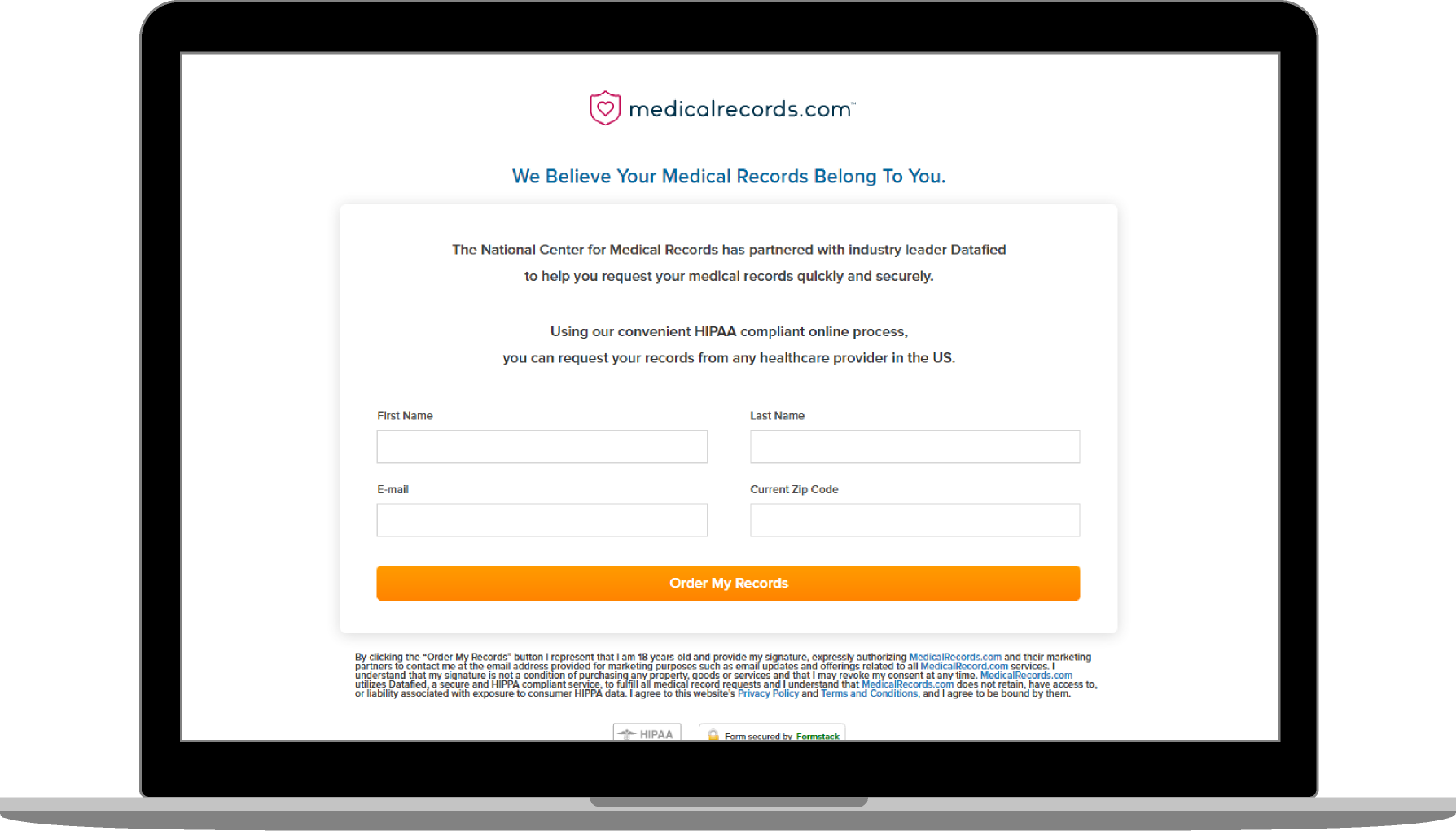 It's Safe, It's Secure, It's Easy! Get Started Now.
Simplify How This Works For Me…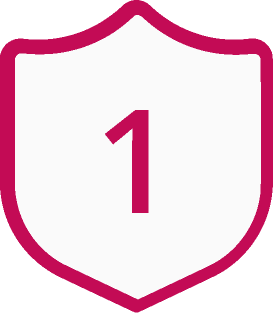 Take three minutes to place your order.
It's a safe and secure ordering process.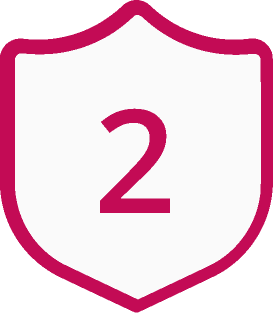 We contact your provider's facility, schedule a visit, scan your records, and review them for accuracy.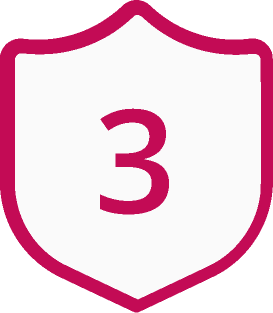 Your records can be downloaded securely online or delivered in any format you wish. Records can also be delivered to anyone you authorize us to release to.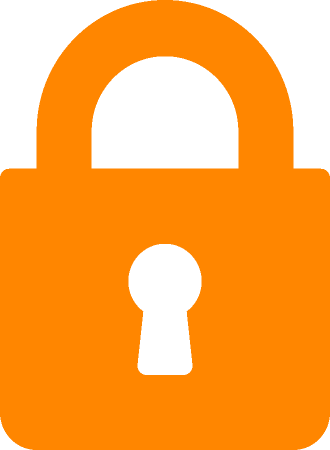 Get started with our
3 Minute Safe & Secure Ordering Process
We Believe Your Medical Records Belong To You.
The National Center for Medical Records has partnered with industry leader
Datafied to help you request your medical records quickly and securely.
Using our convenient HIPAA compliant online process, you can request your
records from any healthcare provider in the US.
By clicking the "Order My Records" button I represent that I am 18 years old and provide my signature, expressly authorizing
MedicalRecords.com
and their marketing partners to contact me at the email address provided for marketing purposes such as email updates and offerings related to all
MedicalRecord.com
services. I understand that my signature is not a condition of purchasing any property, goods or services and that I may revoke my consent at any time.
MedicalRecords.com
utilizes Datafied, a secure and HIPPA compliant service, to fulfill all medical record requests and I understand that
MedicalRecords.com
does not retain, have access to, or liability associated with exposure to consumer HIPPA data. I agree to this website's
Privacy Policy
and
Terms and Conditions
, and I agree to be bound by them.







Average turnaround time: 1-3 weeks
We submit the request to the provider of your choosing.
Additional retrieval fees will be charged for each doctor you request records from (if applicable). The amount of this fee depends on the amount your doctor charges for records.
Average turnaround time:3 days - 2 weeks
Your request is given expedited, preferential treatment in each step of the process.
Request sent overnight to the facility to expedite the request if required.
Increased number of calls to provider and priority with team.
Order processed and sent out as a Rush request to provider.
Additional retrieval fees will be charged for each doctor you request records from (if applicable), The amount of this fee depends on the amount your doctor charges for records.
Average turnaround time:1 weeks or less
This request is handled as a top priority order.
More frequent outreach to facility throughout the process.
We will offer a Certified On-site Field Agent to pick up/copy your records on your behalf to further expedite.
Additional retrieval fees will be charged for each doctor you request records from (if applicable). The amount of this fee depends on the amount your doctor charges for records.
Choose Your Delivery Format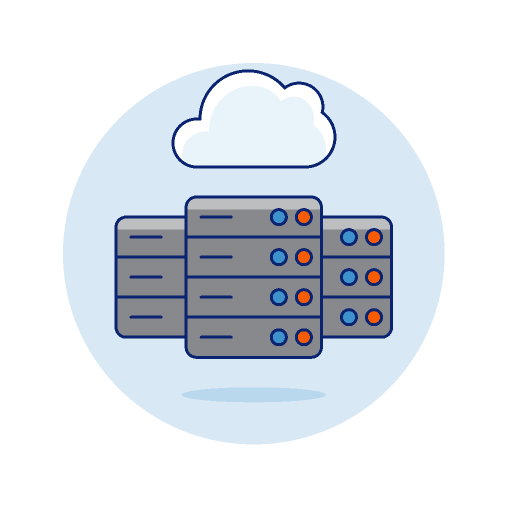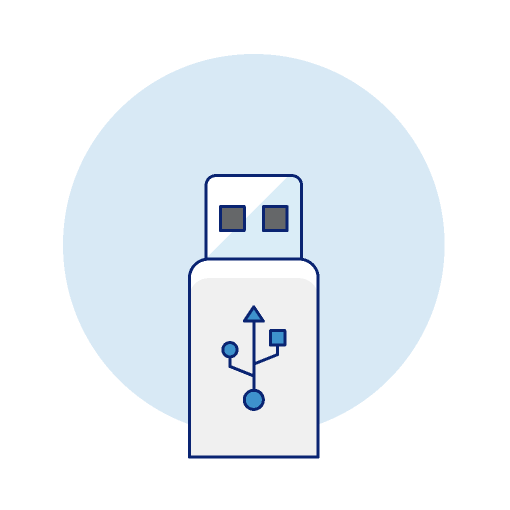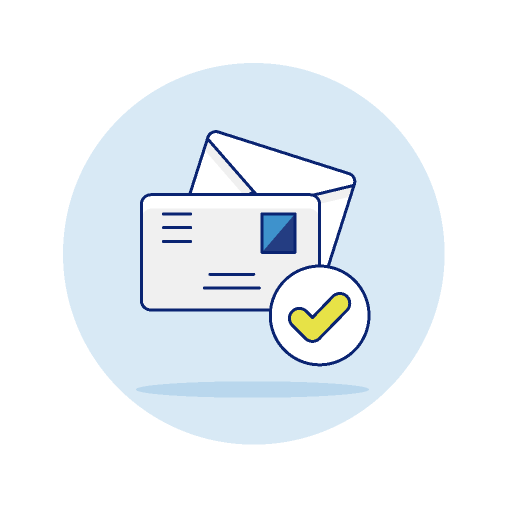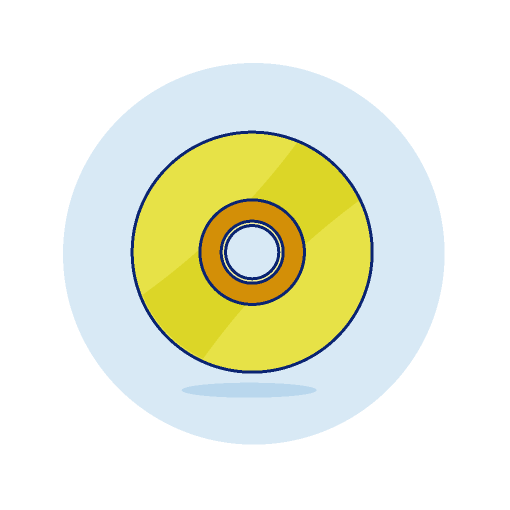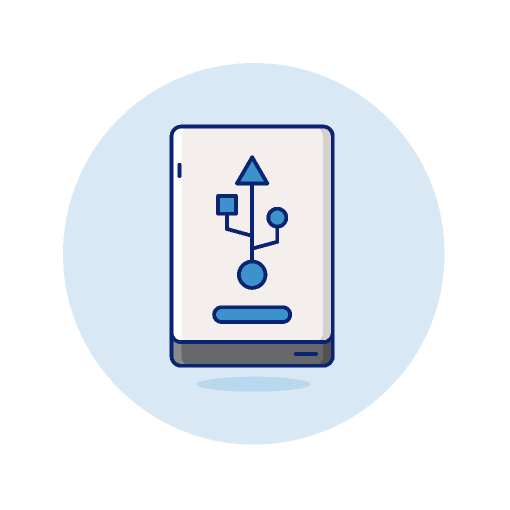 Under the Health Information Portability Accountability Act (HIPAA), you have the right to a copy of your medical records and to copies of records belonging to individuals for whom you serve as a guardian. Medicalrecords.com (through our partners at Datafied) helps you exercise this right and secure copies of records that are vital for ensuring timely and effective medical care.
No matter where your medical records are, Medicalrecords.com can help. We can secure records from Kaiser, VA facilities, and the military, as well as from private practice doctors, hospitals, and care facilities worldwide. Our translation services ensure that the medical records will be ready for your current doctor(s) to review and utilize in providing care.
You can choose to receive a paper copy of your medical records, a digital copy, or both. If your doctor has not already digitized your medical records, Medicalrecords.com can send a certified field agent to the doctor's office to complete this task. We follow strict quality control measures when scanning paper records and the privacy and security of your medical data will be assured.
Most health care providers lack an efficient means of communicating with one another about patient care. That's why whenever you visit a new doctor you have to fill out that same old medical history form all over again, and whenever one doctor prescribes a new medication you have to tell all the others yourself. You can facilitate communication between all of your doctors and specialists by ordering a copy of your medical record and hand delivering it to each new physician or facility. Or, you can have Medicalrecords.com handle delivery for you.
Changing doctors and/or insurance companies is becoming more and more prevalent in today's healthcare environment. Let Medicalrecords.com do the work of collecting all your records and delivering them back to you or to your new doctor or insurance company.
Ordering medical records from Medicalrecords.com will equip you with the information you need to create a Personal Health Record. Maintaining a Personal Health Record helps ensure that all your doctors have the information they need about your medical history to make informed treatment decisions.
A Personal Health Record should include:
Contact information for your health care providers
Insurance ID and policy number
Emergency contact numbers
A list of all medications and supplements you are taking
A description of any allergies
A list of recent surgeries and hospitalizations
Medicalrecords.com helps individuals order medical records on behalf of their aging parents. As the baby boomers move into a healthcare world that is becoming more and more difficult to navigate, it will be extremely helpful to have their complete medical records on hand.
Medicalrecords.com also assists parents and guardians in obtaining children's immunization records, as well as other types of important medical data that may be required for your children's endeavors.
Many medical offices are shredding your old paper based records daily. Yes, this practice is legal and in the end YOUR medical data is being lost forever! However, if you act now and place your order for medical records through Medicalrecords.com today, you can secure copies of your records before they are destroyed.
Medicalrecords.com can even help you obtain outside professional reviews to ensure that you have the most complete and accurate set of medical records available as technology helps you recover and live to your fullest potential.
Military service member, ex-patriot, or next of kin?
It's vital to have a full and complete copy of your medical records, including both civilian and military medical records. Medicalrecords.com can secure both types of records from any medical office or facility, including VA hospitals.
We obtain medical records worldwide, and our translation services ensure that your records are ready for interpretation by your current physician.
More and more medical offices are shredding old, paper-based documents, meaning that if you don't act now your medical records—or those of a loved one—could be lost forever. Medicalrecords.com can not only retrieve paper records before they're shredded but also digitize these records for you.
Typically, when requesting a copy of records through the military, you will receive a paper copy. When you use Medicalrecords.com to request your military medical records, you have the option of having our expert staff digitize these records for you.
Medicalrecords.com makes it easy to transfer your full and complete medical records from one physician or facility to another. We work quickly and make sure your new physician receives your current records as soon as possible so they can provide timely and effective care.
There's a lot to think about when caring for aging parents. If one of your parents was a military service member, you can trust Medicalrecords.com to retrieve their medical records for you so you can focus on other responsibilities.
Medicalrecords.com can also assist with the retrieval of DD214 forms, which are the official certificates of release from active duty that may be required to qualify for important benefits like VA disability, VA home loans, GI Bill tuition, government employment priority, and a military funeral/burial.
A fire at the National Personnel Records Center in 1973 destroyed 16 to 18 million records belonging to Army and Air Force veterans who were discharged between 1912 and 1964. Records from this period must be reconstructed from other sources which can take weeks. This is perfect example of why you need to start the process of ordering your military medical records through Medicalrecords.com today and keep your own digital copy of your records on hand.